On March 15, 2016 Owl House Books will release its debut novel: Listen by award-winning author Francesca G. Varela. Look for listen in paperback and ebook wherever books are sold! | Pre-order in the Homebound Publications Bookstore»
In Listen Francesca tells us the story of May. May is a piano-genius college freshman who dreams of becoming a brilliant composer. In her school's practice rooms she meets Conner, an undeniably unattractive junior, and she is immediately captivated by his raw musicality on the piano. As May tries to navigate college life and fulfill her music dreams, Conner pulls her toward the natural world, toward her own wildness, and, ultimately, toward the wildness within her music as well.
Advance Praise
"Human life is complicated; luckily there are stories to help us navigate important passages. The transition into early adulthood is particularly challenging, and Listen provides a template for being faithful to core personal gifts while maturing into the passion that will actualize them.  Why bother with the struggle at all, especially when most of ones peers seem content with sleepwalking into their lives?  The deeper truth is this: if we default on this critical life stage, we may not get another chance to become what we are meant to BE.  And that is the great tragedy of human existence. May this story inspire the reader's own journey."
—Rev. Gail Collins-Ranadive, author of Chewing Sand and Nature's Calling

"Enter a world where woods, streams, and wild creatures awaken both creative expression and tender human connection.  Two very different young musicians discover each other at the confluence of nature and music with powerful emotional results.  'When the forest breathed, so did I,' one of them says.  Readers of Listen will likewise delight in finding themselves breathing with the trees."
—David K. Leff, author of Deep Travel and Canoeing Maine's Legendary Allagash
"Melodically written, Listen is a captivating story of music, love, and self-discovery sure to entertain from beginning to end."
—Kate Scott, author of Counting to D
"Listen, Francesca Varela's latest novel, is a coming of age tale about a young woman learning to find her place in a world that does not always recognize beauty—of nature, of music, and of those who do not look and act as we expect. Her prose is simple yet profound, with a rhythm that speaks to the themes of nature and music in Listen. This is a work that I've been waiting for: a young author speaking to the struggles and questions of her generation. And as much as anything, Varela is suggesting that what we need now is to listen—listen to the sound of the leaves blowing in the wind, the streams flowing, the birds singing. And, as the title suggests, we also need to listen to what this talented and insightful young author is saying."
—Theodore Richards, author of Cosmosophia and The Conversions 
"May, a gifted musician, knows early in life that she is different than her peers, that she doesn't quite fit in. Any teen can identify with May as she struggles to find her true path as she enters college to study piano. She is a loner who is comfortable with herself, but life becomes more challenging when she falls for fellow music student Conner, another loner whose beliefs, looks and non-traditional ways are outside the norm. Will these kindred spirits—breakers of stereotypes—succeed in navigating the troubling waters of early adulthood and stay true to themselves? Francesca Varela's skillful and colorful storytelling sings as she keeps us guessing until the end."
—Gary Cornelius, author of Dancing with Gogos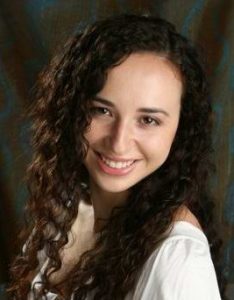 Francesca G. Varela was raised in Oregon's Willamette Valley. Her dream of becoming an author began in third grade, and her writing career had an early start; she had a poem published in the 2002 edition of The Anthology of Poetry by Young Americans. Her debut novel, Call of the Sun Child, won the Bronze Medal in the 2014 Moonbeam Children's Book Awards for Best First Book and also was named a Finalist in the 2015 Next Generation Indie Book Awards in the Young Adult category. She recently graduated from the University of Oregon with degrees in Environmental Studies and Creative Writing. When not writing, she spends her time practicing piano and violin, figure skating, walking her dog, Ginger, and exploring Oregon's wild places.