About Us
About Us: Owl House Books is an imprint of Homebound Publications specializing in literature that can be appreciated by all ages. Myth has haunted and shaped us since the dawn of language, giving wing and fleshy form to the archetypes of our imagination. As our past was spent around the fire listening to myths and the sounds of the night, so were our childhoods spent getting lost in the tangled branches of fables. Through our titles, we hope to return to these storytelling roots.
What's in a Name? Owls are the archetypal wisdom-bearers in fables. As the messenger of guidance, myth and wisdom, the character of the owl is an embodiment of what we hope to achieve through our library.
Environmental Sensibilities: Owl House Books greatly values the natural environment and invests in environmental conservation. We are ever-mindful of our "carbon footprint". Our books are printed on paper with chain of custody certification from the Forest Stewardship Council, Sustainable Forestry Initiative, and the Programme for the Endorsement of Forest Certification. We also recognize that these certifications are imperfect at best and, wherever possible, better and more responsible choices will always be made. We want to be on the forefront of a dialog about what the publishing industry will look like in an ecologically sustainable future.

1% to Charity: Each year Homebound Publications, of which Owl House is an imprint, donates 1% of our net profit to a humanitarian or ecological charity. You can feel good about your purchase knowing that a part of each order is going to a worthy cause. Charities in the past include OXFAM, The Chicago Wisdom Project, and The Edible Schoolyard Project.
About Our Founder: L.M. Browning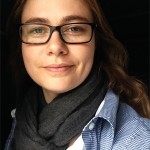 Leslie M. Browning grew up in the small fishing village of Stonington, Connecticut. A longtime student of philosophy, nature and art, these themes permeate her work. In her writing, Browning explores the confluence of the natural landscape and the interior landscape. A proud native of New England, she travels often throughout the region using her photography, drawing, and writing to explore the ecological and cultural identity of the Northeast.
In 2010, Leslie debuted with a three-title contemplative poetry series: Ruminations at Twilight, Oak Wise, and The Barren Plain. These three books went on to garner several accolades including a total of 3 pushcart-prize nominations, the Nautilus Gold Medal for Poetry and Forward Reviews' Book of the Year Award. She followed this success with, Fleeting Moments of Fierce Clarity, which was named a finalist in the Next Generation Indie Book Awards and was nominated for a Pushcart Prize.
Balancing her passion for writing with her love of learning, Leslie sits on the Board of the Art's Cafe Mystic, a poetic art's venue that has run for 17 years in Mystic, Connecticut and has featured authors who are Poets Laureate of the U.S. and winners of the Pulitzer Prize, National Book Award, and MacArthur "Genius Award." She also sits on the Board of Directors for the Independent Book Publisher's Association. With over 3,000 members, IBPA is the largest publishing trade association in the U.S. She is a graduate of the University of London and a Fellow with the International League of Conservation Writers. She is Partner at Hiraeth Press; Co-Founder of Written River: An Anthology of Eco-Poetics as well as Founder and Editor-in-Chief of The Wayfarer. In 2011, Browning opened Homebound Publications and in 2015 went on to establish Owl House Books as an imprint of Homebound Publications devoted to children's literature. She is currently working to complete a B.A. in Liberal Arts at Harvard University's Extension School in Cambridge, Massachusetts.
Her latest works include: The Nameless Man, Vagabonds and Sundries: Poetic Remnants of Lives Past, Seasons of Contemplation: A Book of Midnight Meditations and In the Hands of the Immortal Weaver: Poems of Sacredness and Belonging. Her latest novel, The Castoff Children is now available.
Browning has freelanced for Rhode Island Monthly, ReImagining Magazine, Coastal Connecticut Magazine, Mead: A Magazine of Literature and Libation, The Wayfarer and Written River. She has interviewed such notable figures as Academy Award-Nominated filmmaker Tomm Moore, Emmy-winning Filmmaker Alan Cooke, Sandy Hook mother Nelba Márquez-Greene, and celebrated Shamanic writer Sandra Ingerman.